Regular price
Sale price
$ 32.00
Unit price
per
Sale
Sold out
The cool thing about this organic cotton baby onesie - Nathaniel Hawthorne poem —other than the fact that it's USA made + sewn with soft organic cotton is that the babe will smile + giggle because the quick changing 3 snap closure means diaper changing is quick. It's machine washable, lead, phthalate and flame retardant free so it won't irritate baby's skin. And, you get kudos for your savvy sense of humor while helping save the planet. So, go ahead and buy this organic cotton baby onesie for the little angel in your life!
The National Parenting Center Review:
This Simply Chickie Organic Romper is everything a new parent wants in a romper, something irresistibly adorable and oh so soft to the touch.
Add in the fact that this romper is made of 100 percent Organic Cotton and you are just sweetening the deal. Right out of the package it is soft on your baby's skin but it just keeps getting softer with every wash.
The color is neutral, attractive and the fit is great. The buttons are easy to unsnap for access to the diaper. The fit around the arms and legs felt especially comfortable and properly snug to parents.
Tester after tester mentioned that the quality of the Simply Chickie Organic Romper is so superb that they could easily see handing it down to either the next child or a dear friend. 
Nathaniel Hawthorne quote
"A lovely child to connect her parents forever with the race and descent of mortals. The infant was worthy to have been brought forth in Eden; to be the plaything of the angels."
This quote was taken from The Scarlet Letter by Nathaniel Hawthorne. I used it as my birth announcement when my little "Chickie" was born. I am the great, great, great grand-daughter of Nathaniel Hawthorne and Sophia Peabody. 
Perfect for the smart Mama who loves to read the classics and feel a connection to angels while holding her baby.
View full details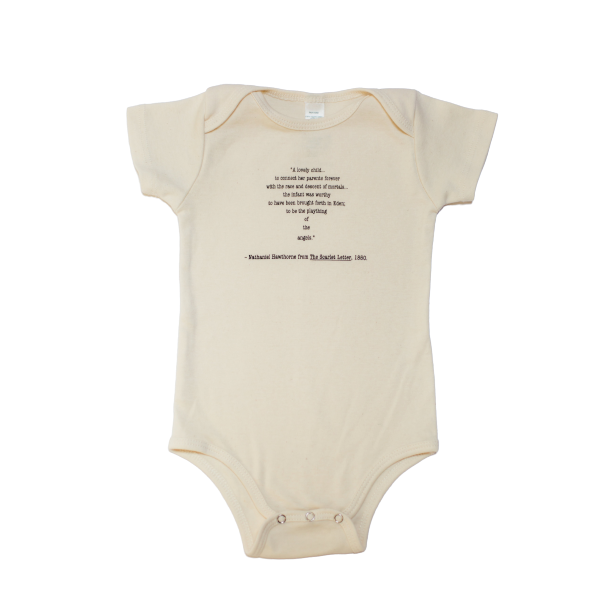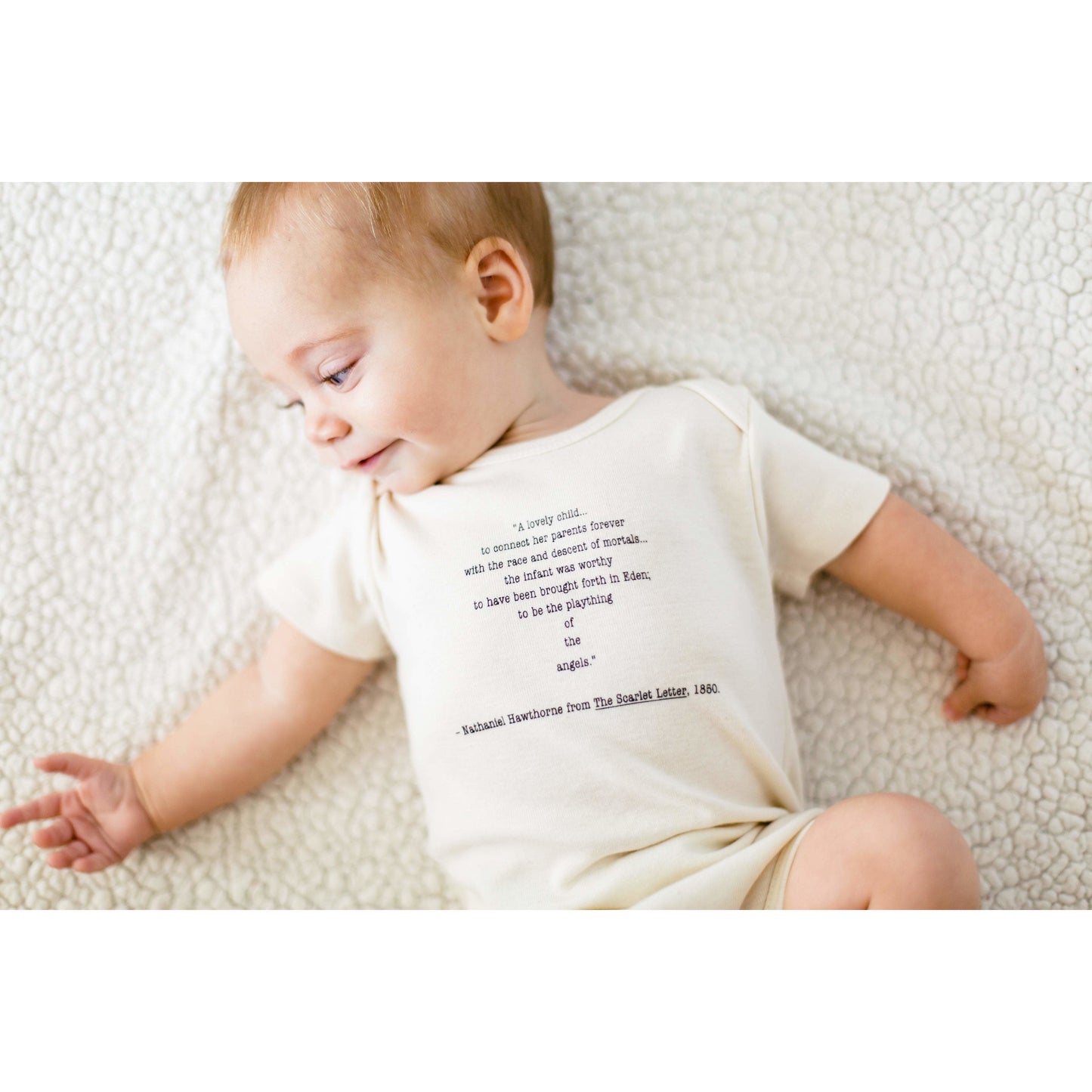 "This Simply Chickie Organic Romper is everything a new parent wants in a romper, something irresistibly adorable and oh so soft to the touch." - The National Parenting Center Review
Helpful Ordering Tidbits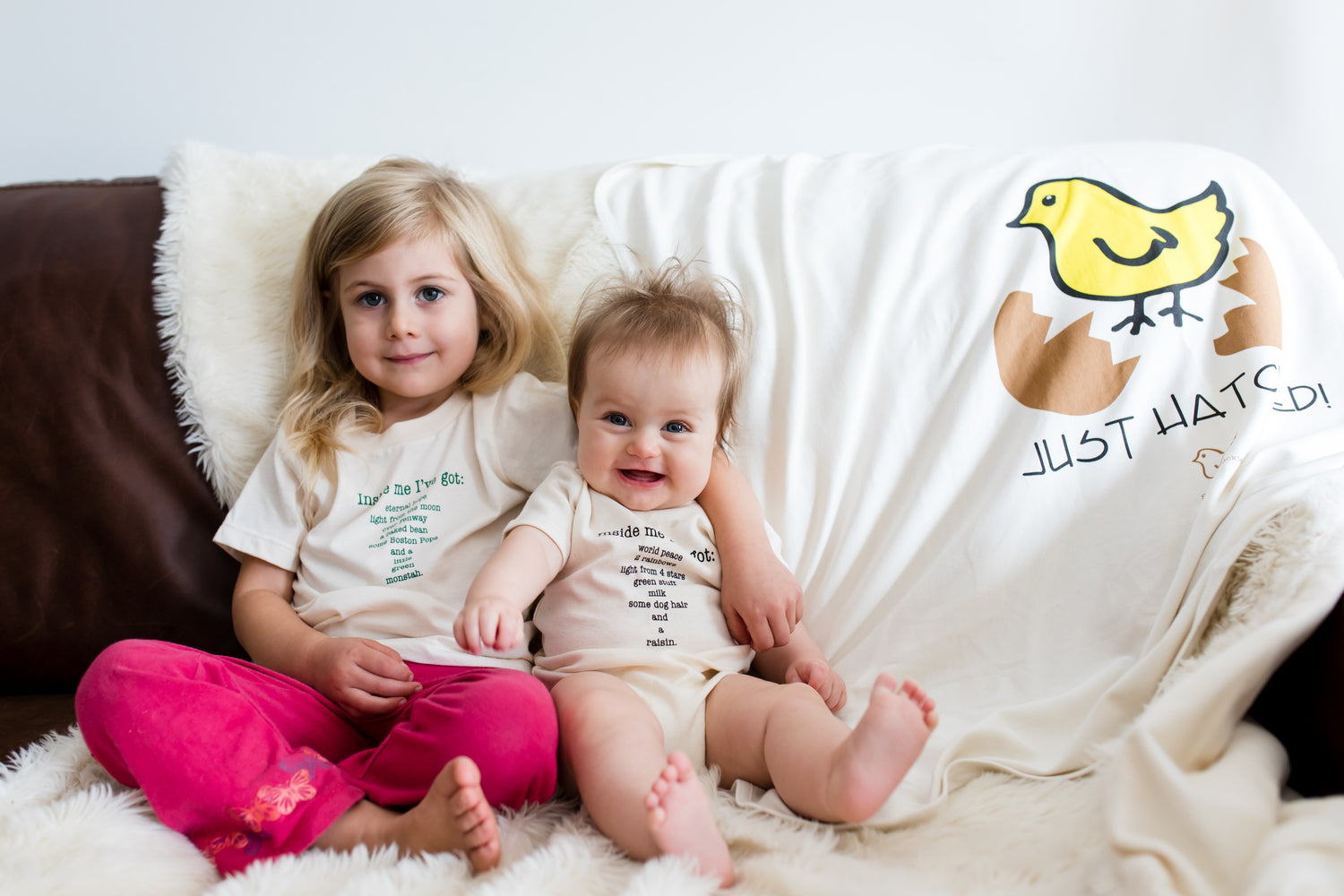 Choosing The Right Size

Newborns can vary in size and shape based on a variety of factors, but full-term babies on average weigh between 6 and 8 pounds.

They are usually between 19 and 21 inches long. Our 0-3 months size fits up to about 10 pounds if you want to give the gift the baby can wear when leaving the hospital.

Of course, if you think the baby is going to be large, you can opt for 3-6 months size, which fits up to about 16 pounds and typically fits babies up to 6 months.
Washing & Care

100% organic cotton may shrink with washing because it is not chemically treated. It is best to use cold wash with a mild detergent. Wash inside out with similar colors and preferrably air-dry.
Shipping & Delivery

Once your order is placed, we process and ship within 3-5 business days following credit authorization and verification.

Orders placed on the weekend will be processed the following business day, excluding holidays. Please allow up to 5-7 business days for delivery from the date your order is shipped out. Once your order has been shipped, you will receive an email confirmation with tracking information.